SHARE A MAGICAL EXPERIENCE WITH YOUR CHILD
Bish and the Magic Bow & Arrow engages both readers and listeners in a magical experience, which also captures thoughts of positivity and personal empowerment to help make life more enjoyable. The story expands a child's view of the world and plants seeds of inspiration on how they might manage their own approach to life and their subsequent happiness.
LittleBig Books™ proudly present an inspiring little story with a great big heart…
Bish and the Magic Bow & Arrow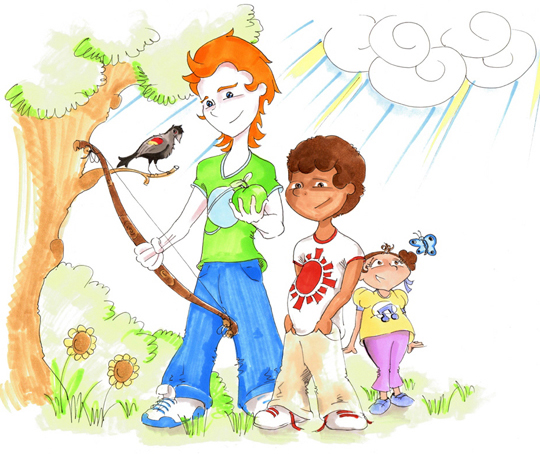 MORE THAN AN ADVENTURE STORY
Bish and the Magic Bow & Arrow is more than just a comical and endearing adventure story: It has been specifically written to influence positive self-belief and foster a 'Can Do' approach to life for children from 6 years upwards.

UNLOCK A CHILD'S POTENTIAL IN A WEEK
Every adult can share a magical experience with children in their care. After only seven 10-minute readings, over the period of just one week you could initiate a profound impact on a child's happiness and share in something inspirational that you'll talk about together. Just read for 10 minutes on the first 6 days, then on the 7th day read to the end. It's that simple!
"You are the golden key to every door that has ever been closed…
Know this and be yourself." Marvin
Also available as a full colour illustrated book.

You will receive a FREE Full Colour Illustrated PDF edition for your Laptop, PC or Tablet when you buy the Full Colour Illustrated Book version.
Bish and the Magic Bow & Arrow

Choose your format


Buy the Illustrated Kindle Edition

Buy the Illustrated Smashwords
Edition for Apple iPad/iBooks,
Nook, Sony Reader, Kobo and
all other ebook formats

Buy the Full Colour Illustrated Book

Out of Stock

Payment can be made by Credit or Debit Card or by Pay Pal.
All major credit and debit cards accepted.
What they're saying...
"
Tender
and
inspiring
...
"
"
This book is
great
for children
...
"
"
A
lovely
story. Very
powerful
...
"
"
There's something
pure
about it
...
"
"
Full of magical moments
...
"
"
A
beautiful
tale of
joy
...
"

A LITTLE ABOUT THE AUTHOR:
Simon Caira has many years experience working in personal development coaching. This book was inspired by his insights whilst helping his clients work through personal blockages to happiness: He wondered how things might have been for them if, as children, they had been given more encouragement to develop and nurture a healthy sense of self-worth, a liberating can-do attitude and a strong internal sense of self-belief and confidence. This book is part of Simon's contribution to addressing these issues at a younger age.